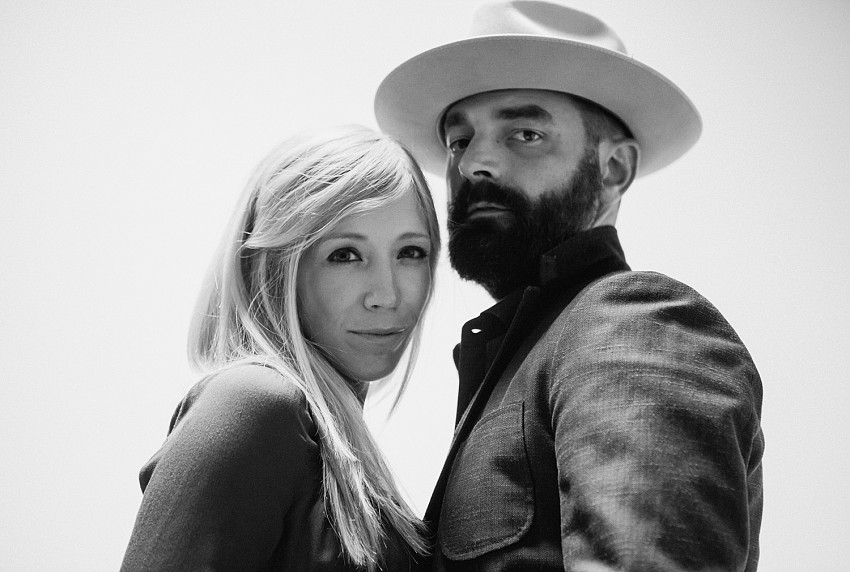 Drew & Ellie Holcomb
Drew & Ellie Holcomb
Drew Holcomb
Souvenirs. Drew Holcomb has collected many of them. A road warrior for more than a decade, he's spent his adulthood onstage and on the road, traveling from place to place with a catalog of vibrant, honest songs that explore the full range of American roots music. He turns a new corner with 2017's Souvenir, a highly-collaborative album that finds Drew Holcomb & the Neighbors focusing on the things that truly stick with you — including family and friends, music and memories, people and places — in a fast-moving world.
Equal parts folksinger, roots-rocker, country crooner, and pop-hook provider, Holcomb blurs the lines between genres on his newest release. Souvenir is his band's most expansive album to date, dishing up everything from the West Coast country-rock of "California" to the front-porch folk of "Mama Sunshine, Daddy's Rain." The rootsy songs are more rustic than ever before, laced with harmonica, upright bass, and banjo, while the rockers are downright electrifying, from the searing guitar solo that carves a lightning-shaped streak through "Sometimes" to the emotionally-charged duet with Holcomb's wife, Ellie Holcomb, on "Black and Blue." Holcomb is still the captain of this band's ship, but Souvenir relies on contributions from the whole crew. It's a proper "band album," in other words, stacked with songwriting contributions from longtime members Rich Brinsfield and Nathan Dugger.
Arriving two years after Medicine, a watershed album that cracked the Top 15 on both the Billboard Folk and Rock charts, Souvenir was borne out of collaboration. Holcomb and company had played nearly 200 shows in support of Medicine's release, and the pace took a toll on the frontman. Looking for help to whip up new material, he began holding weekly songwriting sessions with Brinsfield and Dugger. The two bandmates responded by bringing in some top-notch tunes. Dugger came up with "Yellow Rose of Sante Fe," a classic country song whose warm, western sway brings to mind a young Willie Nelson, while Brinsfield wrote "Sometimes," whose stacked harmonies and pop melodies evoke the Beatles. The trio finished an additional handful of songs together, while a solo acoustic tour through Europe gave Holcomb the time to polish off several tunes on his own.
Fiercely supportive of his adopted hometown, Holcomb recorded Souvenir in East Nashville, teaming up with the same producers — Joe Pisapia (k.d. lang, Guster, William Tyler) and Ian Fitchuk (Maren Morris, James Bay, Kacey Musgraves) — who helped bring 2015's Medicine to life. Rather than try and resurrect the classic, stripped-down vibe of the previous album, though, the team adopted an "anything goes" approach in the studio. They used a drum machine on "New Year," a song about the annual cycle of triumph and tragedy. They made room for gang vocals, layered guitars, and epic, rock-influenced arrangements. On "Wild World," a socially-conscious song about embracing diversity and loving your neighbor, the crew recorded live, allowing the sounds of the outside world — including a passing ambulance, its siren blaring — to filter their way into the finished track.
While Drew Holcomb & the Neighbors worked on Souvenir at Pisapia's home studio, America endured the final days of a dark, contentious election that seemed to leave everyone — both winners and losers — in a state of exhausted unhappiness. There's palpable anger rising from Holcomb's voice in "Fight for Love," whose epic tale of struggle and redemption was recorded one afternoon after Election Day. Souvenir doesn't shy away from those dark corners — the challenges and controversies that help give context and depth to our happier moments — but it does place most of its focus on one central theme: love.
"Love is physical," says Holcomb, who kicks off the album with "The Morning Song," his most sexually-charged track to date. "Love is geographic," he adds, pointing to the album's tribute to the Golden Coast, "California." Then, looking at the rest of the 11-song tracklist, he draws connections to songs about estranged brothers, long-lost lovers, precocious daughters, and everyone in between. "Love is hard and tragic," he finishes. "Love is rewarding. Love is friendship. Love is fatherhood."
Love is musical, too. One month after recording "Wild World," Holcomb found himself in the ER, once again listening to the blare of ambulance sirens outside. He was soon diagnosed with a rare case of viral meningitis, a disease that left him in the hospital and unable to listen to the finished, mastered mixes of Souvenir's tracks. Years ago, he might've waited until he completely recovered, delaying the album's release until he could personally approve each song. This time, he tossed the job to his bandmates, giving the Neighbors the trust, love, and support needed to finish Souvenir.
Released on March 24, 2017, by Holcomb's own label, Magnolia Music, Souvenir is the very thing its name suggests: a keepsake from a band that's still moving, still growing, still scaling new heights. Like Medicine, the album is built around the idea that music helps bind people together. It's the population's connective tissue. It's part of our lives, carried with us from one milestone to the next, always providing the soundtrack to our individual journeys. For Drew Holcomb & the Neighbors, that journey is still going. Souvenir is the newest memento from that trip, its songs shining a light on the band's past while also pointing toward the next destination. Onward.

Ellie Holcomb
Since the release of her full-length solo debut, As Sure As the Sun, in 2014, singer/songwriter Ellie Holcomb has been walking an unexpected path, one of suffering and loss but also peace and joy. She has come to the edge of the rushing river of confusion and experienced a God who made a way where there seemed to be no way.
And it is from that place—of finding God in the dark and unexpected—that Holcomb wrote and recorded Red Sea Road (Full Heart Music), set to release Jan 27th, 2017.
"I think my first record was probably more help my unbelief," says Holcomb. "But I think this one would be more I'm surprised and delighted to say that God is faithful…I know that's true more than I did a year or two ago."
Loss, disappointment, and fear of the unknown have marked Holcomb's journey of grappling with and believing in God's faithfulness.
"It's been a year in general of just aching with the people that we love and walking through a lot of brokenness," says Holcomb. "A lot of life lived and lost." But the suffering has created a collection of songs rich in lyrics, powerful in melody, and equal parts honest and hopeful.
Holcomb says, "This record feels more declarative because I have just needed to sing the truth into the dark." It sounds more declarative too. From triumphant anthems to contemplative, piano-driven melodies to upbeat and catchy ones, each song on Red Sea Road is connected by a common thread of bold and much-needed truth.
As Holcomb began writing for the album—before she knew it would be an album—she thought, "I don't know if this is for anybody else, but I need to sing these songs. I need to sing these for my own soul." It's what David did in the Psalms, she says. "He bosses his soul around in song."
She wrote this idea into the chorus of the title song on the album, "Red Sea Road": We will sing to our souls / We won't bury our hope / Where He leads us to go there's a red sea road / When we can't see the way, He will part the waves / And we'll never walk alone down a red sea road.
She wrote "Red Sea Road" for several close friends who suffered tragic losses in their families, yet clung to hope in Christ in the midst of it. As she worked on the song with longtime co-writers Christa Wells and Nicole Witt, Wells recalled something author AnnVoskamp had written on her blog: "…we believe that an unseen Hope makes a Red Sea Road where there seems to be no way."
Holcomb says that phrase captured the essence of what she was trying to say through this song. During trying times, just like the Israelites experienced with the Red Sea in front of them and the Egyptians behind them, our temptation is to throw our hands up in despair. "What I was seeing in all of this," she explains, "is that He was drawing near and making a way for us to carry on when we felt like we couldn't carry on any longer."
She saw this steadfastness and hope in her friend's families, and she saw it in another family: her own.
Right before they began recording Red Sea Road, Holcomb's dad, and producer on the album, Brown Bannister, went to the doctor for a regular appointment. That routine check-up turned into an unexpected cancer diagnosis.
"We were about to start recording and this blow happens to our family," recalls Holcomb. But her parents' response to the diagnosis surprised and encouraged her: "It was so strange because I remember my mom and dad had a lot of peace. They were like, 'We're going to choose to praise God, and at the end of the day, no matter what happens, healing is ahead. Whether it's this side of glory or the next, we have hope. We have hope because of Jesus.'"
Watching their peace and trust in God allowed her to feel peace too, she says. The circumstances were not good, and yet, we sensed God's nearness and felt peace when it made no sense to feel that way. It was a powerful season that marked my heart forever. The whole experience brought new meaning and depth to the instruction found in Philippians 4:4-5: "Rejoice in the Lord always. I will say it again: Rejoice! Let your graciousness be known to everyone. The Lord is near."
Drawing from this truth, she wrote the words to the album's first single, "Find You Here," a soft yet powerful song that talks about the surprising places we find God: Here in the middle of the lonely night / Here in the middle of the losing fight / You're here in the middle of the deep regret / Here when the healing hasn't happened yet.
The day Bannister went in for surgery, Holcomb was recording "Find You Here" in the studio with Ben Shive, co-producer on the album. She brought a copy of the scratch vocal to the hospital, and she and her mom and dad listened to it together that night.
Today, Bannister is cancer free. "I know that's not the end of every cancer story," says Holcomb. "But it was a really sweet gift to our family to get to listen to that song as we were walking through that scary & unknown season together. It was such a reminder for us that Jesus draws near to the brokenhearted. My prayer is that 'Find You Here' would help bring peace to anyone walking through a season that is overwhelming or heartbreaking."
Along with Jesus drawing near, Holcomb says another theme on this album is the promise that He will. He'll bind up the brokenhearted / He'll set captives free from darkness / He'll breath hope into the hopeless…so ring the lyrics on the aptly titled "He Will."
Holcomb began writing "He Will" when she got sick in the middle of a radio tour. She had been meditating on Isaiah 61—"He has sent me to heal the brokenhearted, to proclaim liberty to the captives and freedom to the prisoners…to comfort all who mourn…to give them a crown of beauty instead of ashes"—so instead of focusing on how bad she felt while on the road, she says she focused on God'spromises.
"It was such a beautiful trip. I felt so bad but ended up just seeing God carry and support me so much…This whole record has been God reminding me that He's faithful even when you're sick. Even when things don't turn out like you thought they would, He will bring healing and hope. He will be who He says He is."
Although music is a natural outpouring for Holcomb, and she has the accolades to back up her talent—As Sure As the Son landed her a Dove Award for New Artist of the Year and a nomination for Best Pop/Contemporary Album—this growing artist calls herself "a very reluctant musician." Having had two kids since starting her last album, she knows the pull of creating and touring while also being a mom and a wife.
"I know this job often takes you away from home," she says. "Even though I love this, I feel called to this, and I feel alive when I'm doing it, it's still hard to leave my kids. At the end of the day, though, I just want to be faithful to the work God has called me into, whether that's being a mom, writing a song, or traveling to perform."
For Red Sea Road, Holcomb learned that she can write music anywhere, anytime, even with two small children at her feet. She wrote during nap times and at night, but if inspiration struck during waking hours for her kids, she would simply pull out her phone and start recording. Sometimes it was while cooking dinner, sometimes it was when she was pushing Emmylou, her daughter, on the swing.
"There's been a lot of, 'Hey, here's life. I'm going to write this song and you're going to be crawling around at my feet and dancing as I'm writing it.'" Maybe the writing process wasn't perfect, she says, but "it was beautiful."
When it comes to her music career, Holcomb has never held on too tightly: "I want to say yes if He's calling me to this. And I want to say yes if He's calling me away from this. So I just hold this thing with really open hands. Right after I released my first record, people were already asking, 'When's your next record?'"
Her response? "I don't know what's next, but it's more Jesus and it's more of God's Word and more of me asking Him to help me believe that His promises are true on the days that I struggle to believe."
And that's exactly what Red Sea Road turned out to be. Only, it's not just an album helping Ellie Holcomb to believe. It's an album that will sing light into the dark of anyone's life who is listening. It will remind us all that Jesus is near and no matter what path feels impossible right now, He will make a way where there seems to be no way. Because unseen hope makes a red sea road.