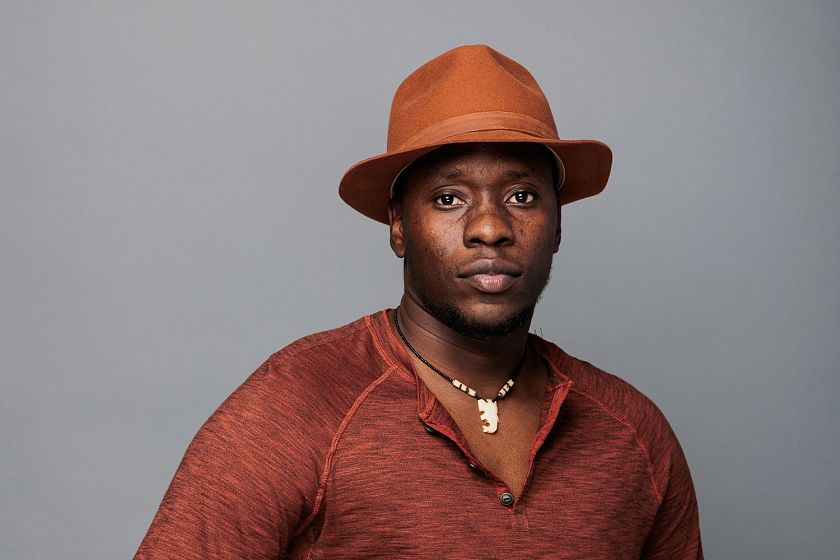 Jon Muq
Jon Muq
Ugandan-born songwriter Jon Muq makes soulful, expressive pop music, rooted in his vibrant guitar and piano playing and his stirring voice. Growing up poor in the urban slum of Uganda's Capital Kampala, "I always listened to and appreciated sound," says Muq. "Guitars are very, very rare in Africa, but I was walking one evening and I saw a guy playing guitar, and I thought to myself 'This instrument is going to give me my answers.' So every day I would walk ten miles to go to that guy's place, just to see him play and learn about guitars."
Jon established himself as an accomplished visual artist early in life, becoming well versed in African design, jewelry making and mosaics, and earning a degree in Industrial Art and Design. But it was music that captured his soul. "I went to school because I could do art, but in my mind I was always a musician," he recalls.
Jon developed his natural songwriting ability, dreaming up stories and songs as he listened to conversations between his parents and sisters late at night. He gained experience performing on the streets of Kampala, and was eventually hired for a regular spot performing for guests in an upscale local hotel. A friend posted a video of Jon performing on Facebook, which led to him winning a job performing on a Norwegian Cruise Line ship, where his music found a receptive audience.
In 2018, Jon's musical ambitions and sense of adventure drove him to follow his musical dream to America. "Growing up," he explains, "I admired the images of America that I saw on TV and always thought 'I need to go to that place to make music.' But it was scary. I was 24, and I had never really been away from home. It was a challenge, but at the same time it was an adventure."
"I'd never even heard of Austin," he continues, "but I sat at the computer and Googled, and I read about SXSW and I saw that there were many musicians going there, and I thought that I should be there too. I didn't have a plan. I just decided that I'd go and do what I could do. Luckily enough, when I came, I had many opportunities to sing. I missed home, but this was where I I always dreamed of being, regardless of the challenges."
Although he had few contacts in America, Muq settled comfortably into Austin's fertile creative community, where he was quickly recognized by his peers. He demonstrated his budding studio skills by producing other artists, and his own artistic talent was noticed by renowned artists and producers who approached him to collaborate. Jon is currently in the studio writing and recording new music, with plans to release his first album of his original compositions.
In addition to pursuing his creative endeavors, Muq has continued to devote time to charitable organizations in both Uganda and the U.S., working with non-profits and community programs that provide education, food, clothing and support to those in need.
As a native of the African nation of Uganda, and current resident of the American musical mecca of Austin, Texas, Jon Muq embodies a unique mix of influences. His distinctive recordings merge traditional instruments with a variety of exotic sounds and rhythms, providing a striking backbone to his heartfelt songwriting, effortless vocals, and captivating performing style. His personally-charged lyrics underline his talent as a writer, giving the listener a poetic glimpse into his life experiences and his inner world.
"On the day that I made the decision to do music," the artist reflects, "it instantly changed my life. I decided to take every chance I could, and not to think about the risk. Sometimes you feel like you don't have a choice."