Please review the FAQs for details on the event and how to purchase your cabin.
Click on the categories to view the cabin. Click on the deck to view a sample deck map.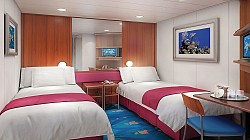 Interior
These inside staterooms feature two lower beds that can be converted to a queen size bed, flat-screen TV, and private bathroom.
Prices PER PERSON*

Add $255 per person for taxes and fees
Category
Deck - Description
Double (2)
Triple (3)
Quad (4)
Quint (5)
4BA
Interior - Best Available - Interior

$1,300

$1,067

$950

N/A

IE,IF,IX
Deck 4 - Interior

$1,250

$1,033

$925

N/A

IE,IF
Deck 5 - Interior

$1,275

$1,050

$938

N/A

I1,IB,ID 8
Deck 8 - Interior

$1,300

$1,067

$950

N/A

I1,IB,ID 9
Deck 9 - Interior

$1,325

$1,083

$963

N/A

I1,IA,IC10
Deck 10 - Interior

$1,350

$1,100

$975

N/A

I1,IA,IC11
Deck 11 - Interior

$1,400

$1,133

$1,000

N/A

OF,OG
Deck 4 - Porthole

$1,500

$1,200

$1,050

N/A

OK,OX
Deck 8 - Obstructed O/V

$1,550

$1,233

$1,075

N/A

O1,OB,OC
Deck 5 - Ocean View

$1,650

$1,300

$1,125

N/A

OA
Deck 8 - Ocean View

$1,750

$1,367

$1,175

N/A

BD,B2,B3
Deck 8 - Balcony

$2,050

$1,567

$1,325

N/A

BA,B2,B3
Deck 9 - Balcony

$2,250

$1,700

$1,425

N/A

BA,BB,B1
Deck 10 - Balcony

$2,450

$1,833

$1,525

N/A

M1,MA,MB
Deck 11 - Mini Suite

$2,750

$2,033

$1,675

N/A

SF
Deck 8,9,10 aft - PH/Romance Ste

$3,250

N/A

N/A

N/A

SE
Deck 9,10 fwd - Penthouse Suite

$3,350

N/A

N/A

N/A

SC
Deck 11 fwd - Penthouse Suite

$3,500

$2,533

$2,050

$1,760

S3
Deck 9,10 fwd - Owners Suite

$5,000

N/A

N/A

N/A
Please Call 1-877-379-9175 To Book Cabins in the Category Below

S1
Deck 14 - Garden Villa

$6,000 per person for 6 guests
* All prices based on a minimum of double occupancy
Cabins