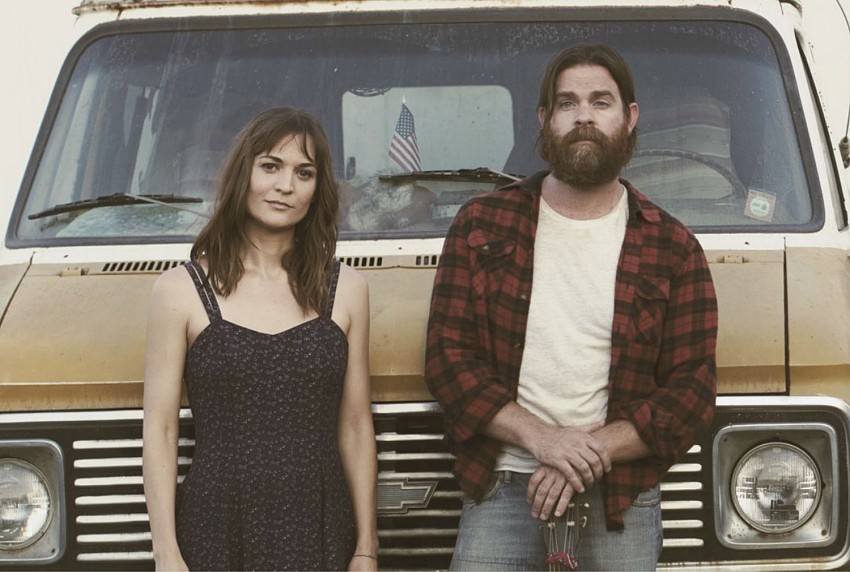 Joe Purdy & Amber Rubarth
Joe Purdy & Amber Rubarth
"American Folk" starring Joe Purdy & Amber Rubarth
Joe Purdy and Amber Rubarth, two artists steeped in the rich tradition of American folk music team up for some very special performances to coincide with the already acclaimed indie film, "American Folk" as well as its superb soundtrack album released January 2018. "American Folk" is an intimate look into our nation's heart in the days following the attacks of 9/11. The story is told from the perspective of two people traveling across the U.S. with a sobering look into those dark days while also serving as a reminder of the power of music and a compassion that unites us all. Learn more at americanfolkmovie.com


Purdy's latest album, "Who Will Be Next?" is a searing but compassionate commentary on our turbulent times.
Rubarth's new album, "Wildflowers In The Graveyard," is a collection of songs exploring the cycles of life, death and rebirth in nature and relationships. She has been referred to by Huffington Post as "Part of the new old-soul generation."
---
Joe Purdy | Facebook · Instagram · Twitter · Spotify
A few years back, if someone had started giving him some lip in the middle of a gig, Joe Purdy might have left the stage and beat a little sense into the guy. Nowadays, he's more likely to calm everybody down, assure the loudmouth that he was a welcome and important part of his audience and through words and warmth talk him into sitting back down and join everyone else in enjoying Purdy's extraordinary music.
What has happened to Joe Purdy? Some might call it growth, although he's already grown a lot in wandering from his Arkansas home state to Los Angeles, and from there toward and beyond further horizons. Along the way he's recorded a baker's dozen worth of albums. His songs have turned up on numerous TV shows and film soundtracks. He even received a special request from Pete Townshend to join him onstage. Purdy said yes.
Even so, in recent years the singer, songwriter and self-described "hillbilly" has come to see the world and his role in it somewhat differently. His new views chart the direction on his latest album, Who Will Be Next? which plants its feet deep in the tradition of Pete Seeger, Woody Guthrie, Bob Dylan, Phil Ochs and others while addressing immediate transgressions.
Purdy's determination to honor the giants of American folk while applying his unique skills as writer and passionate vocalist reveal just how much he has achieved and evolved as an observer and participant in our times.
---
Amber Rubarth | Facebook · Instagram · Twitter · Spotify
Amber Rubarth has a playful simplicity and insightfulness to her musings that has connected with people around the world. From villages across South Africa to clubs in Japan, at Carnegie Hall, and backed up by a full chamber orchestra, and throughout hundreds of clubs and theaters in Europe and the US, "she has developed a unique gift of knocking down walls with songs so strong they sound like classics from another era." -Acoustic Guitar Magazine.
The word has spread organically around her independently released albums, attracting glowing features from The Huffington Post, NPR, and BBC Radio.She has been hand-picked to open tours for songwriting legends Emmylou Harris, Kenny Loggins, Richie Havens, Marc Cohn, Loudon Wainwright III andDr. Ralph Stanley and was awarded Grand Prize in NPR's Mountain Stage New Song Contest. A live recording of Rubarth from Memphis' legendary Sun Studio is currently airing on PBS.
Rubarth's newest release, Wildflowers in the Graveyard (Sept. 29, 2017), is a collection of songs exploring the cycles of life, death and rebirth in nature and relationships. Its sparse intimacy draws you in and lyrically sits comfortably in the inherent mystery as she sings, "I'm walking to the edge of where the river meets the sky / Holding my head up and closing my eyes / And all the answers I've been hoping to find are written in the water." All songs are self-penned and recorded analogue to 2" tape with engineer and co-producer Matt Andrews (Gillian Welch, Dave Rawlings, Dawes) in her hometown of Nashville. The record's bold magnetic energy draws you in to each nuance and detail as it reveals layers with the elegance of a wildflower.
In addition to her solo music, Rubarth made her acting debut co-starring alongside folk troubadour Joe Purdy in the new feature film "American Folk," winner of "Best American Independent" at CIFF. The film will be released theatrically on January 26, 2018 alongside a tour. Prior to acting, Rubarth scored and composed for films including the highly acclaimed Sundance Film Festival winner Joan Rivers: A Piece of Work (with Paul Brill) and the award-winning documentary Desert Runners. She also is the founder of two collaborative projects, Brooklyn indie band The Paper Raincoat, an iTunes Indie Spotlight featured in commercials for Google and Aquafina and currently creating their musical theater production, and the UK-based harmony folk trio Applewood Road, whose debut album was named The Telegraph's Best Albums of 2016 after performing last year at Glastonbury Festival. Rubarth's original trio arrangement featuring Applewood Road can be heard on the 2017 BBC documentary "Sisters in Country: Dolly, Linda and Emmylou."