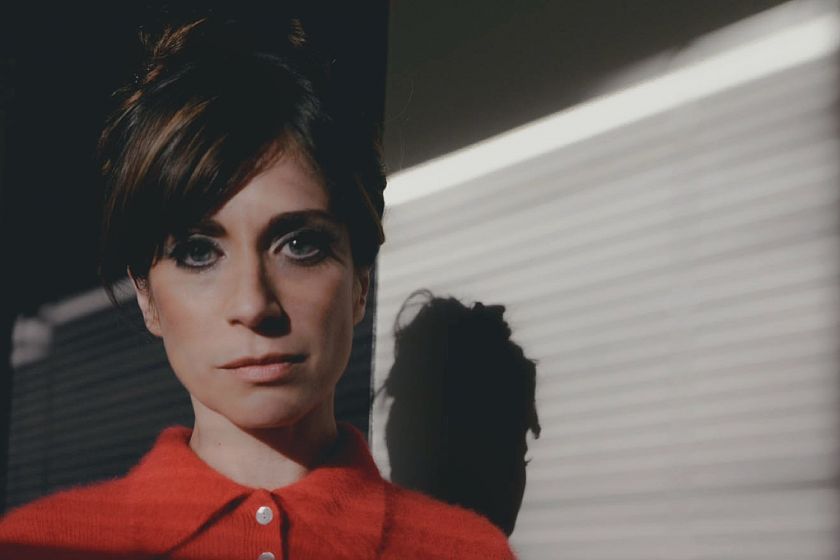 Nicole Atkins
Nicole Atkins
In each song she creates, Nicole Atkins reveals her incredible power to transport listeners to a much more charmed time and space. On her new album Italian Ice, the New Jersey-bred singer/songwriter conjures the romance and danger and wild magic of a place especially close to her heart: the Jersey Shore in all its scrappy beauty. Inspired by the boardwalk's many curiosities—the crumbling Victorian mansions, the lurid and legendary funhouse, the Asbury Park rock-and-roll scene she played a key part in reviving—Atkins ultimately transforms her never ending fascination into a wonderland of her own making.
"When you're on the boardwalk there's a feeling that anything can happen, and that's the feeling I tried to create with this record," Atkins says. "I wanted to give people something they can put on and buy into a fantasy that gets them excited about what might happen in their own lives."
For help in capturing the shore's kinetic spirit, Atkins assembled a studio band whose lineup feels almost mythical. Recorded at the iconic Muscle Shoals Sound Studio in Alabama, Italian Ice finds the Nashville-based artist joined by Spooner Oldham and David Hood (both members of The Muscle Shoals Rhythm Section, who played on classic records from the likes of Aretha
Franklin and Etta James), Binky Griptite of The Dap Kings, Jim Sclavunos and Dave Sherman of The Bad Seeds, and drummer McKenzie Smith (St. Vincent, Midlake). With special guests including Spoon frontman Britt Daniel, Seth Avett of The Avett Brothers, Erin Rae, and John Paul White, the album is a testament to Atkins's uncommon talent for uniting musicians of radically different sensibilities. "I just invited all my best musical friends to be there with me, and then we roped in Spooner and David too," says Atkins, who connected with the two musicians after performing at Oldham's birthday bash. "Musically, it doesn't make any sense. But I'm a superfan of all of them, and we ended up with the weirdest, craziest band ever. It just became this awesome misfit party.
Co-produced by Atkins and Ben Tanner of Alabama Shakes, Italian Ice makes brilliant use of its A-list personnel, unfolding in a kaleidoscopic sound that Atkins likens to "an acid trip through my record collection." At turns as opulent as symphonic pop and gritty as garage punk, the album wanders into shades of psych-rock and honky-tonk and girl-group melodrama, endlessly spotlighting the tightly honed musicianship and unbridled originality at heart of Atkins's artistry. "I didn't really censor myself much," she points out. "Everything that felt good to say or hear or feel coming back off the speakers, I just went for it."
Right from its very first seconds, Italian Ice hints at a deeper purpose behind that feel-good ethos. With its soulful harmonies and soaring string lines, the album-opening "AM Gold" speaks truth on the horrors of global warming and the corrosive effects of social media (sample lyric: "We're stranded in the garbage of Eden/We're starvin' what we should've been feedin'"), yet simultaneously makes a case for music as a potent antidote to despair. "The world can be in so much chaos, like it is today, but whenever I go home and get in my parents' car and turn on the radio to some Bobby Vinton or Frankie Valli song, everything feels okay," says Atkins. "For a few minutes you're just drifting away on this dreamy sound that makes you feel so warm and held and comforted."
From there, Italian Ice presents a pair of back-to-back tracks that channel Atkins's untamed imagination into moments of sonic transcendence. Co-written with My Morning Jacket's Carl Broemel, "Mind Eraser" matches its silvery textures and ethereal guitar work with flashes of surrealist poetry lifted straight from her hyperactive dream life. Meanwhile, "Domino" finds Atkins pushing genre boundaries to glorious effect, working with songwriter/producer Dex Green to carve out a groove-heavy pop gem. "We were talking about French electro and I told Dex how I wished I could have a song that sounds like that," Atkins recalls. "He sent me over a beat he constructed and we ended up coming up with something almost like a Prince song or 'Miss You' from the Stones—that same kind of strut." And in her smoothly delivered lyrics to "Domino," Atkins serves up something of a mission statement for living fully in troubled times: "I'm not gonna play/Safe and sound/When the world comes tumblin', tumblin' down."
Although Atkins embodies a bold self-possession for much of Italian Ice, the album also has its share of tenderhearted offerings, such as the sweetly slow-burning "Forever"—a song sparked from an impromptu meeting with Kelvin Holly (longtime guitarist for Little Richard). "We were outside smoking a cigarette at Spooner Oldham's birthday party and just hit it off," says Atkins. "He asked how I met my husband, and I told him how he'd been my tour manager and then said something like, 'I smelled him and he smelled like forever.' And Kelvin told me, 'Well, that's a song right there.'" Another candid expression of unconditional love, "Captain" features guest vocals from Daniel, emerging as a beautifully lilting ballad duet. "Britt came down to the studio and we sat on the back porch and worked out the parts, then just went in sang it live," says Atkins, who co-wrote "Captain" with Broemel. "It's about how a lot of times in my life, I've needed people to take care of me, but now I've become much stronger. The song is me saying to my husband: 'I got this. Just rest for a little bit and let me take care of you.'"
Elsewhere on Italian Ice, Atkins showcases her gifts as a storyteller, like on the fantastically rambling road-warrior confessional "Never Goin' Home Again" (a track written with Sclavunos and Daniel). "We've got so many crazy tour stories, so we decided to string them all together into one song that everyone can dance to and laugh about," says Atkins. While those stories include "seeing aliens and blowing up a minivan and waking up in somebody's daughter's bed," as Atkins puts it, one of the most jarring tales involves the time she stumbled into a sinkhole in a Knoxville parking lot. "I woke up at the bottom and my old keyboard player had to jump in and lift me out, and it really flipped my perspective on a lot of shit," she says. Perhaps most profoundly, the incident inspired Atkins to focus on filling her life with the people and experiences that bring her the most joy—a turning point that led directly to the abundance of collaborations on Italian Ice.
An album entirely unrestrained in feeling, Italian Ice closes out with one of its most gut-punching tracks: "In the Splinters," an epically defiant finale co-penned with Hamilton Leithauser. "When Hurricane Sandy happened, a lot of our area got destroyed," says Atkins of the song's origins. "It was really traumatizing, but the upshot was how everybody came together afterward. I think as long as you're alive and with the people you love, it really doesn't matter what you have."
Describing her time at Muscle Shoals as "like summer camp, but in the winter," Atkins looks back on the recording process with deep fondness for the camaraderie she helped create among so many disparate musicians. During that time, the band stayed together in a nearby lakehouse, cooked breakfast for each other every morning, and spent their nights playing dice in a local bar. "This record taught me that making music for music's sake and seeing what happens is where the good shit comes from," she says. "I feel like I've written some of my best stuff just feeling happy and confident and enjoying the company of who I'm playing with."
For Atkins, that shift in approach marks a full-circle moment in her trajectory as an artist. "My whole life, music was the only thing I ever really cared about," she says. "When I was a kid I couldn't get into sports, couldn't get into school, but music was something I always wanted to know everything about. I never gave up on it, even when I felt like it was kind of failing me." And in reflecting on the making of Italian Ice, Atkins returns to her eternal kinship with the Jersey Shore. "There's this great quote about Asbury Park that I feel very connected to," she says. "It's something about how music was the thing that kept Asbury Park alive—even when the whole town was burned out and everyone moved away, music was the heartbeat that kept it going. I was thinking about that around the time I was making this record and I thought, 'That's just like my life.'"
-Liz Barker