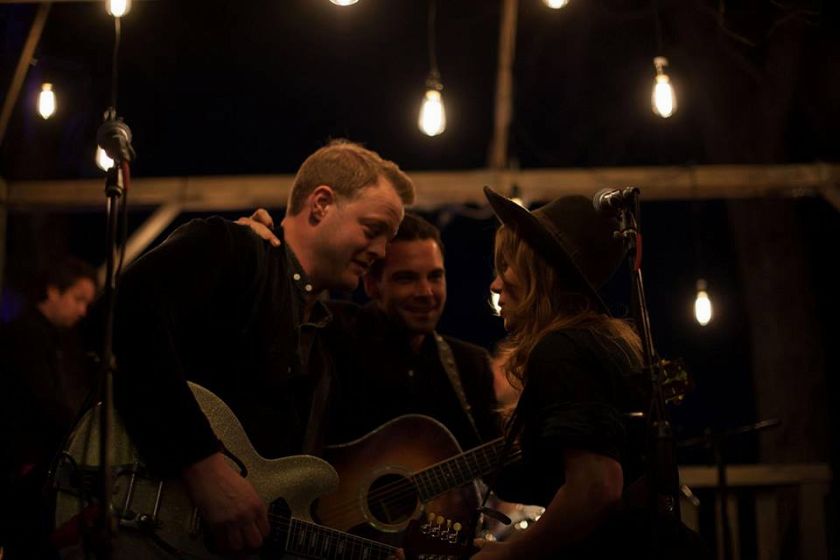 The Lone Bellow
The Lone Bellow
Zach Williams, the Lone Bellow's lead singer and principal songwriter, can pinpoint just about exactly when the Brooklyn-based group serendipitously willed itself into being. It was around 9 a.m. one morning in 2010, at Dizzy's Diner in Park Slope, Brooklyn, where the Lone Bellows guitarist and Williams' old friend Brian Elmquist was working a shift. Williams, up to then performing as a solo artist, needed a place to try out some new songs; for a scuffling artist, the diner was as good as any rehearsal space. He asked fellow singer Kanene Pipkin, just returned to New York City from living in Beijing, to meet them at the diner and the trio did more than merely jam. With the beginnings of a repertoire and an already strong communal spirit, that fateful morning they became the Lone Bellow. As Williams recalls, "Three songs in I realized I should quit what I'm doing and just make music with these people."

And that's what he did. The trio's self-titled debut disc is exuberant in its playing, welcoming in its attitude. Though the lyrics have a melancholic undercurrent, the tracks are more often rave-ups than ruminations, with swelling three-part harmonies and rousing group-sung choruses, especially on the electric guitar-driven "The One You Should've Let Go" and "Green Eyes and A Heart of Gold," a we-will-survive anthem that could be about a family or a band. Indeed, there is a strong familial feel to The Lone Bellow, a recurring theme of inclusiveness.

That sentiment lies at the heart of the album and Williams' own career to date. The native Georgian first came to songwriting via near tragedy. While still living down south, Williams' young wife was catastrophically injured in a horseback riding accident. Physicians initially told Williams that, at best, his wife would leave the hospital a paraplegic. But doctors at the pioneering Shepard Center in Atlanta thought otherwise and after months of rehab there she ultimately regained the ability to walk. Throughout the ordeal, Williams had been scribbling his thoughts into a journal; good friend Caleb Clardy, co-writer of "Teach Me To Know," suggested he turn his writing into songs. The couple's friends had rallied around them, practically living in the hospital waiting room with Williams, organically becoming the support group he needed. Williams admits, "That was the first time I really experienced somebody trying their best to carry someone else's burden. It was very moving to me. I was going to classes on how to bathe and feed my wife, and I was trying to process all the fear and anger and the numbness. I started reading my friends these journal entries. I was writing in a kind of rhyming form because it helped to keep my mind focused. Caleb said, these are songs, man, you need to learn how to play the guitar and sing at he same time."

Having experienced something close to a miracle, a revitalized Williams and his wife decided to head to New York City and pursue their creative paths in earnest. Several of their friends, equally motivated, chose to follow, and they reformed a tightly knit community in Brooklyn, where everyone settled Williams initially worked as a solo artist, backed at times by a hired band. Two years ago, following a soul-searching trip he'd taken with his wife, Williams re-emerged with a stack of deeply personal songs -- tender but frank tales of romantic rupture and hard-fought redemption -- rooted in the country, folk and gospel of his Southern youth, and that's the material he brought to the diner.

Along with the core group of Williams, Pipkin, and fellow Georgian Elmquist, the Lone Bellow's recording and touring ensemble now includes Ben Mars on bass, Brian Murphy on keyboards, Matt Knapp on lap steel and electric guitar, Jason Pipkin on banjo and mandolin, and Brian Griffin on drums. After a warm-up gig at Brooklyn's Roots Café, Williams got a call from The Civil Wars, the Grammy Award Winning duo that he'd befriended while they were playing at the Lower East Side's Rockwood Music Hall. They asked if he and his new cohorts would open for them in Philadelphia: "We rehearsed for three days straight to try and get our act together and went to Philly and played our first real show as a group. It was so life giving, everything that everyone was playing had the overarching values of honesty, friendship and vulnerability, I felt like we really connected with this group of people in Philadelphia who'd never heard of us before."

Willams met with Civil Wars producer Charlie Peacock when the Lone Bellow played the Bowery Ballroom and took him to the Rockwood, the modest but well-regarded two-room venue that Williams had long considered his musical home: "When Charlie came up, I said, let's walk around the block. I want to show you the venue. The owner, Ken Rockwood, was there and they just hit it off. Charlie was walking around, snapping his fingers close to walls, looking at the glass windows in front of the large room, and he said, 'You should make your record here'. Ken gave us the room for three days and three nights. We lived there. Our eight-piece band recorded twelve songs there and Charlie magically made them something worth listening to. I will never forget that experience."

Peacock captured the spirit and the sound of these individuals, both at their most confident and their most vulnerable. Their recording of "Teach Me To Know," an infectious folk/gospel sing-along, was the by-product of some spontaneous late-night carousing, according to Williams: "We were ten songs in, I was exhausted, my vocals were completely gone, it was like one a.m and it started pouring down rain. Our piano player Brian ran outside and lied down on the sidewalk. So we all ran outside. Two of the band members started dancing in the rain and the rest of us started running around Allen Street with our shirts off. It was a beautiful moment. And while we were out there being dumb, Charlie set up the mics completely differently. When we came back inside, soaking wet from the rain, he said, we're recording 'Teach Me to Know' right now. And we laid it down. And that was the way it was making this record. It was all about capturing moments. We didn't play to a click; we were just in it. It was absolutely wonderful. I felt like the city just soaked through the windows into the recording."

Afterwards, Williams, Kanene Pipkin and Elmquist joined Peacock down in Nashville for overdubs and fixes with some additional players at his studio, the Art House – an abandoned old church he had retrofitted on a small piece of land – and that location proved to be as well-suited to the band's sensibility as the Rockwood. The results of their efforts, the Lone Bellow's debut, are earnest, inspiring and fun. Everyone listening – and undoubtedly singing and stomping along – will surely feel like part of the family too.